This were the stalls at Reclaim the Seeds in 2019. We are looking forward to a similar list of exciting stall holders for this year!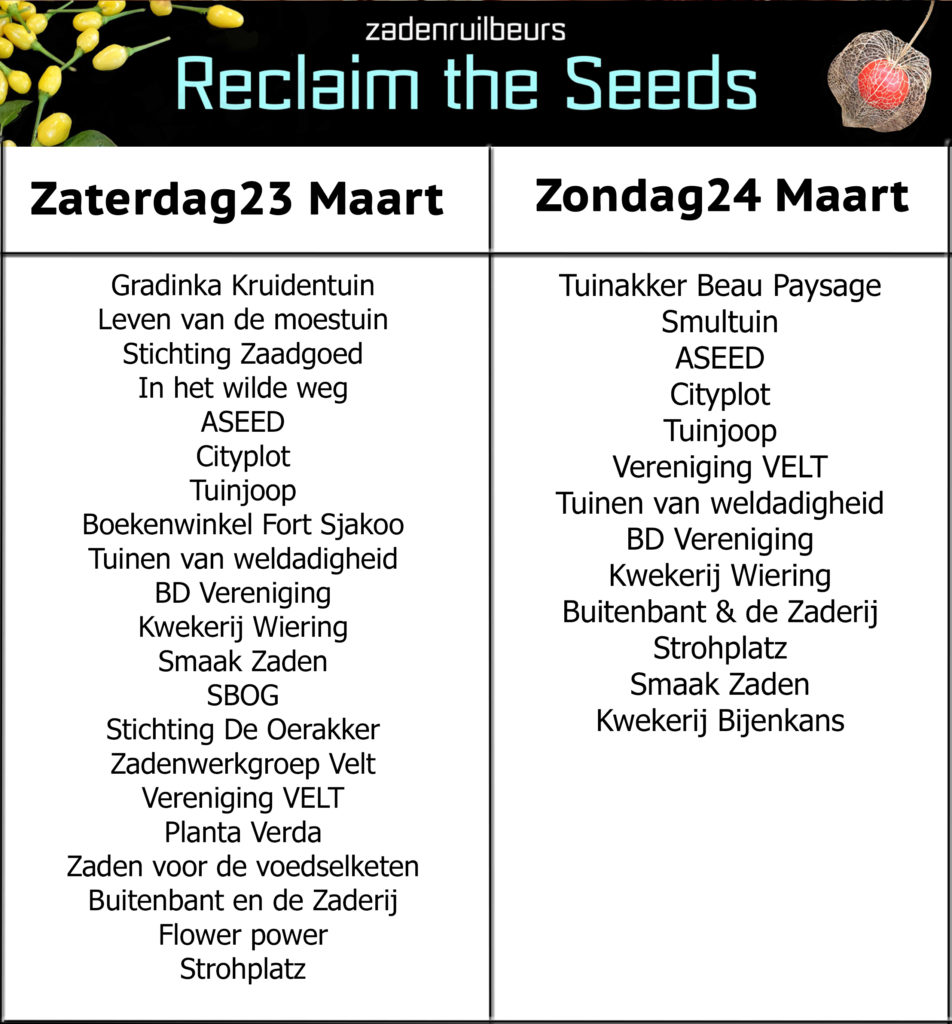 Both days the standholders wil be present from 11.00- 17.00
Meet the stall holders
Gradinka Kruidentuinen
Saturday
Gradinka means 'small garden' in Bulgarian and this is a playful reference to Hedwig's other hobby: the beautiful Bulgarian way of singing. Here, in her organic-dynamic garden Hedwig grows and collects the seeds of over 300 herbs, vegetables and kitchen herbs, heirloom tomatoes, edible flowers and wild plants. She makes ointments, massage-oils and dyes, she uses edible wild plants to make liqueur and wild pesto. She has a lot of special and edible plants in her garden. She has saved seeds for future breeding all her life, and this has now developed into lively bartering. She enjoys preserving biodiversity and going against the large firms such as Bayer and Monsanto. Gradinka is connected to the network 'Eeuwig Moes', which is committed to the preservation of old vegetable varieties.
Contact: hedwigmaria@hotmail.com

Leven van de Moestuin
Saturday
Myra Band is very active in her garden. She experiments and observes what does well and what does less well. With these observations she hopes to inspire others. She also saves her own seeds, and will bring her collection to Reclaim the Seeds in Amsterdam.
Website: http://www.levenvandemoestuin.nl

Stichting Zaadgoed
Saturday
Stichting Zaadgoed is committed to the preservation of diversity in crops and varieties in agriculture.
Website: www.zaadgoed.nl


In het Wilde Weg
Saturday
A stall with the seeds of flowers, herbs, vegetables and edible wild plants, second-hand garden books, a few plants and water kefir.
Website: www.inhetwildeweg.nl
Seeds Working Group Velt / Seeds for everyone
Saturday
The Velt Seed Working Group is a network of gardeners who grow, propagate, clean, gather and save and exchange open-pollinated vegetable, herb and flower seeds themselves.
Under the motto "Seeds for Everyone", self-harvested seeds are collected and exchanged via free exchange tables. In that way seeds are available to everyone and many projects can be supported. In exchange, you get different seeds yourself. Velt members learn to harvest their own seeds, become familiar with herbs and vegetables (also rediscovering and valueing heritage species!), and come into contact with other gardeners, varieties, species, experiences …
Website http://beweegt.velt.be/zadenwerkgroep


VELT (Association for Ecological Lifestyles and Gardening)
Saturday & Sunday
VELT is the association for anyone who wants to work in an environmentally friendly way in the garden or kitchen. For almost 45 years we have been promoting healthy living in rhythm of the seasons, with respect for nature. We count more than 17,000 members and 130 local groups in Flanders and the Netherlands. With our activities, publications and collaborations we want to contribute to the development of sustainable lifestyles.
Together with our thousand volunteers, we work actively every day to create an ecological living environment within the broad framework of sustainable development. To achieve this goal, we stand up for biodiversity, energy and resource-saving production and consumption by individuals, companies and governments.Website: https://velt.nu/

ASEED
Saturday & Sunday
ASEED is an activist organisation and that campaigns for agricultural biodiversity and against gene technology and patents on crops. ASEED campaigns also against free trade agreements like TTIP, proposing food sovereignty and agro-ecology as alternatives. ASEED is currently working on a campaign on climate change and agriculture, targeting industrial livestock farming and the massive consumption of meat and dairy products. ASEED was one of the organisers of Reclaim the Seeds from the very start.
Website: http://www.aseed.net


Cityplot
Saturday & Sunday
Cityplot is a collective of urban food growers, educators and permaculture designers that encourages city dwellers to grow their own vegetables, herbs, edible flowers, fruit and berries and give them the tools to do so. We believe that it is possible to grow healthy organic food on all scales in and around the city: from private growing spaces to community gardens, from schools and restaurants to large-scale urban food growing projects. Cityplot also runs the Pluk! CSA self-harvest garden at the Fruittuin van West.
Website: www.cityplot.org, www.plukcsa.nl

Tuin Joop
Saturday & Sunday
Joop Reichenfeld is a creative herb woman. The Tuinjoop T-huis and herb garden are on the edge of 's-Hertogenbosch, near to the Maasuiterwaarden nature area. Here she collects vegetable, herb and flower seeds from her garden and from the wild. She makes herbal tea, lip balsam, creams, salves and soap from her harvest. https://www.tuinjoop.com
Bookshop Fort van Sjakoo
Saturday
A bookshop in Amsterdam with books and magazines on guerilla gardening, vegan cooking, organic gardening, genetic manipulation, ecological building, social movements and the power of corporations. But in their collection and online webshop you will also find books about war, peace, migration, anarchism and other political and social-scientific subjects.
Website: www.sjakoo.nl

De Tuinen van Weldadigheid
Saturday & Sunday
These 'Gardens of Benevolence' in Veenhuizen grows what is perhaps the largest collection of edible crops in the Netherlands for the last decade. They are helped by a number of volunteers (with and without care budgets) they maintain and propagate – among other crops – 100 potato varieties, 80 garlic varieties and more than 100 bean varieties. The garden area measures 3 hectares and they organise regular tours and other activities. There is a plant sale in May. All seeds, seedlings and plants from the Tuinen van Weldadigheid are organically certified.
Website: www.detuinenvanweldadigheid.nl

Kwekerij Wiering
Saturday & Sunday
Artisanal nursery with organically cultivated bamboos, ornamental grasses, perennial garden plants and herbs. Located in the Tuinen van West.
http://kwekerijwiering.nl


Planta Verda
Saturday
Cilia Touw is an enthusiastic gardener who has been saving her own seeds for several years. She grows tomatoes, peppers, melons, aubergines, arugula, chard and broccoli at a community garden association in Westervoort After previously participating in Reclaim the Seeds as a 'normal' visitor, she had her own stall for the first time last year. And this year we are looking forward to her coming again.

Smultuin
Sunday
Smultuin ("Tasty garden") publishes a digital magazine and eBooks for fans of tasty and healthy organic food from your own garden. At the stall they will have their own saved seeds and second-hand gardening books on offer.
Website: http://www.smultuin.nl

De Oerakker and Netwerk Eeuwig Moes
Saturday
To improve the fate of old Dutch crops and varieties and save them from oblivion Ruurd Waldrecht started his life's work in 1960 to save as many regional varieties as possible, cultivate them and maintain our living natural heritage. In 1995, he started the Oerakker foundation to keep old historical crops as living heritage. With this foundation he also maintains his network 'Eeuwig Moes' which features over 90 initiatives today. The purpose is to expand the collection and the number of initiatives so that we can preserve our living heritage as best as possible.
Website: www.deoerakker.nl
De Tuinakker Beau Paysage
Sunday
De Tuinakker is a small-scale organic nursery in Amsterdam Osdorp that focuses on flowering perennials for the garden. They largely grow the plants from their own material, which is harvested from the mother beds. To keep the use of potting soil to a minimum, they try to sell the plants directly from the land.
Website: http://detuinassistent.nl/kwekerij



BD Association
Saturday & Sunday
The members of the Association for Biodynamic Agriculture and Nutrition (BD Association) are farmers and citizens who consider the development of human, animal, plant and soil-friendly agricultural methods to be essential. Anyone can become a member of the BD Association: together we can form a powerful movement. More at BD AssociationP
Foundation for the Conservation of Old Grain Varieties (SBOG)
Saturday
Theo Bastiaanse has been growing old grain varieties for decades. The grains, all from gene banks, are sown annually, selected and the newly-obtained seed is delivered as a safety duplicate to the gene banks where the originated so that they can provide seeds to like-minded initiatives in small quantities. The SBOG currently has 230 different varieties of grain in the collection from countries including China, Uzbekistan, Greece, Iran, Iraq, Israel, Nepal and Ethiopia. These grains are also special in that they are often extremely disease resistance, as well as different in appearance, colour and natural taste.
Theo Bastiaanse will bring a large variety of cereal plants and photos for his seed stall. He will also talk about the Bleijenbeek Heritage Seed project. Let Theo's stories about the countless diversity that nature offers amaze you.
Kwekerij bijenkans
Sunday
This stall will have various bee-friendly plants and herbs.
https://www.bijenkans.nl
Smaak Zaden
Saturday & Sunday
Arthur Nooren grows tasty vegetables and saves their seeds on a piece of land in Amsterdam West. He will tell how to best grow seeds for gourmands. At his stall you will find a nice variety of high-quality seeds: a nice addition for our palettes!
Website: www.smaakzaden.nl
Buitenbant & de Zaderij
Saturday & Sunday

This biodynamic company from the Noord-Oostpolder grows seeds for the Bolster, Cruydthoeck, Stichting Zaadgoed and the ProSpecieRara Foundation, among others. Tineke Alberts whole heartedly supports the breeding of seeds in which economic priorities are not the leading factor. She is busy with a regional spinach variety that is resistant to downy mildew and is adapted to clay soil.
Website: www.buitenbant.nl
Seeds for the Food Chain
Saturday
In poor areas, people sometimes go for days without meals, or are dependent on food packages that only offer a short-term solution. Good nutrition is the basis of everything. With an empty stomach you can not concentrate well on school, without food you do not have the energy to work, and if you are undernourished you are more prone to illness. We want to make people self-reliant by offering free seeds so that they can plant their own vegetable gardens.
Website: http://seedsforfood.one/index.html

Strohplatz
Saturday & Sunday
https://www.strohplatz.coml

Flower Power @ tuinen van west
'goed geel'
Saturday
https://www.goedgeel.nl




Free exchange tables
As not everyone can or wants to fill an entire stall, we will provide tables where you can freely exchange your seeds with others. Please provide the important information about your seeds on the package: what is is, when did you harvest, and how should you plant it). It's not the idea to offer hybrid (F1) seeds at this table as they will not produce plants that you can save seeds from for the next generation. If you are bringing old seed please make that clear in order to avoid disappointing people.
If you plan to contribute to the free exchange tables please have a look at the general conditions for stall holders and participants.